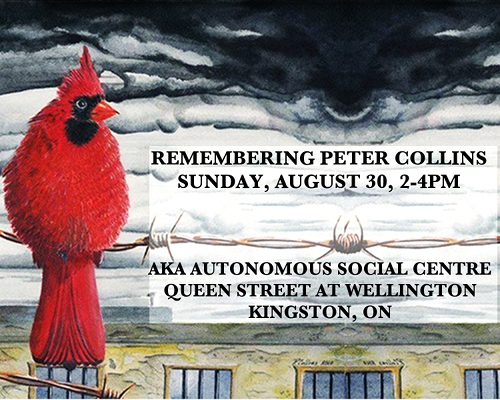 Peter Collins, artist, activist, dear friend and brother, passed away
August 13, 2015. He is remembered for his work for justice, his creativity,
his sense of humour, his kind heart and his unwavering integrity.
Join us at a gathering in Kingston, on Anishinaabe and Haudenosaunee
territory, to remember Peter on Sunday, August 30th from 2-4pm at AKA
Autonomous Social Centre, the red and black house on Queen St at Wellington
St, up the ramp.  This is an opportunity to reflect on Pete's art and music
and to share memories. All are welcome and refreshments will be provided.
For more information about Peter, please visit:
https://www.facebook.com/PeterCollinsSupportCommittee
************
We are having a memorial service for my brother Peter Collins who passed
away on August 13th, 2015.
Please join us Saturday, August 29th, 2015 from 1-4pm for a service in
Ottawa (Algonquin Territory). Reflections on Prison (In)justice: The Life
and Work of Peter Collins
Location: Room 4004 (4th Floor), Faculty of Social Sciences, University of
Ottawa, 120 University Private
In lieu of flowers we are asking for people to donate to:
CFRC Radio @  https://cfrc.nationbuilder.com/donate with "Calls from Home
Hotline" in the memo
You can also send a cheque to:
CFRC Radio (with Calls from Home Hotline in the memo)
Lower Carruthers Hall, 62 Fifth Field Company Lane
Queen's University, Kingston ON K7L 3N6
Calls From Home is a radio project that aims to bring prisoners and their
family members and friends together once a month through community radio.
Calls From Home collects voicemail messages from loved ones and broadcasts
them over the airwaves on the last Wednesday of each month from 7-8PM.
Peter regularly listened to and participated in interviews for this program.